Legendary Photographers in Poland.
Capa, Seymour, Barbey and others
"Legendary photographers in Poland" is a photographic story about the Polish People's Republic after World War II, about how Poland changed and how it was perceived by Western photojournalists. The photos of twelve photographers from the legendary Magnum Photos agency show communist Poland and the realities of life in the country behind the "iron curtain".
The album presents a selection of almost 100 photos of prominent Magnum Photos photographers who made photojournalism in Polish country in the years 1948–1981. They were: Abbas Attar, Bruno Barbey, Werner Bischof, Robert Capa, Henri Cartier-Bresson, Elliott Erwitt, Jean Gauma, Erich Lessing, Peter Marlow, David Seymour, Ferdinando Scianna and Marilyn Silverstone.
Concept and photo selection: Anna Brzezińska
Words: Małgorzata Purzyńska
Cover and book design:
Gosia Stolińska
Published by History Meeting House in Warsaw
cover photo: ©Werner Bischof / Magnum Photos—Warsaw, 1948.
©2021 History Meeting House in Warsaw
After World War II, the "Iron Curtain" divided Europe into two hostile camps - the democratic West and the autocratic East under the influence of the Soviet Union. Foreign photojournalists in Poland produced materials from important social and political events, documented war damage and support for aid organizations such as UNNRA, the Red Cross and UNICEF, as well as everyday life.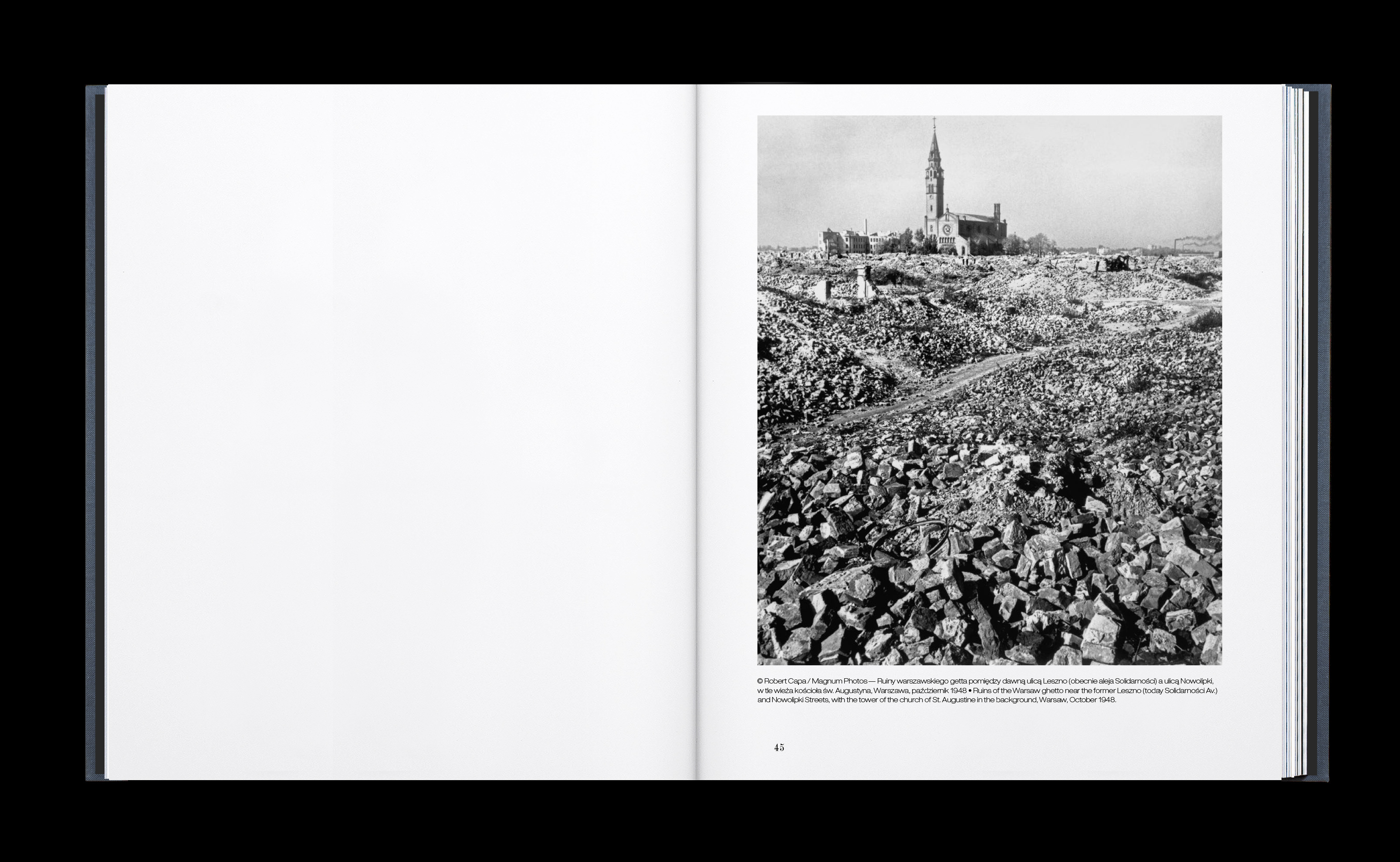 They traveled all over Poland. They were in Warsaw, Gdańsk, Katowice and other Silesian cities, in Częstochowa, Kraków, Nowa Huta, and Poronin. Poland was an "exotic" and interesting country for them, where the influence of communism and the Catholic Church clashed for the "government of souls". Poles, compared to other communist-ruled countries, were distinguished by their ardent religiosity, which was surprising for people from Western Europe; this topic was a frequent recurrence in the materials he produced. On the other hand, photographers were looking for ways to show the impact of politics on the lives of people in our country - from propaganda murals praising the achievements of the 6-Year Plan to the enthusiastic reception of General Charles de Gaulle, France, when hundreds of thousands of people greeted him on the streets of Polish cities.